Sight is the most essential of the five human senses, as it is the way we sense 80% of what is happening in the outside world. But what to do if an accident at work puts your sight at risk?
According to Statistics Estonia, the number of people injured at work has fallen by more than 15% in the last two years. While this is undoubtedly a commendable result, it does not mean that vigilance can be neglected, as it is still difficult to foresee all accidents.
Clean your eyes
Irrespective of the job title or tasks, we can probably all agree on the importance of the sense of sight, even by reminding ourselves now and then: try to make a cup of tea with
your eyes closed. However, it is certainly no joke if vision is suddenly compromised while working. The situation is particularly complicated as the eyes are fragile organs: damage can occur
quickly and easily. An example of such a situation comes from our northern neighbours. Cleaning smoke ovens is a routine daily job at the Finnish fish processing company Kalavapriikki Oy. One day, a hose connection suddenly failed, and the company's employee cleaning the oven was sprayed with a highly corrosive cleaning agent that penetrated behind his safety goggles. Fortunately, thanks to a colleague's swift intervention, the employee was able to save his sight.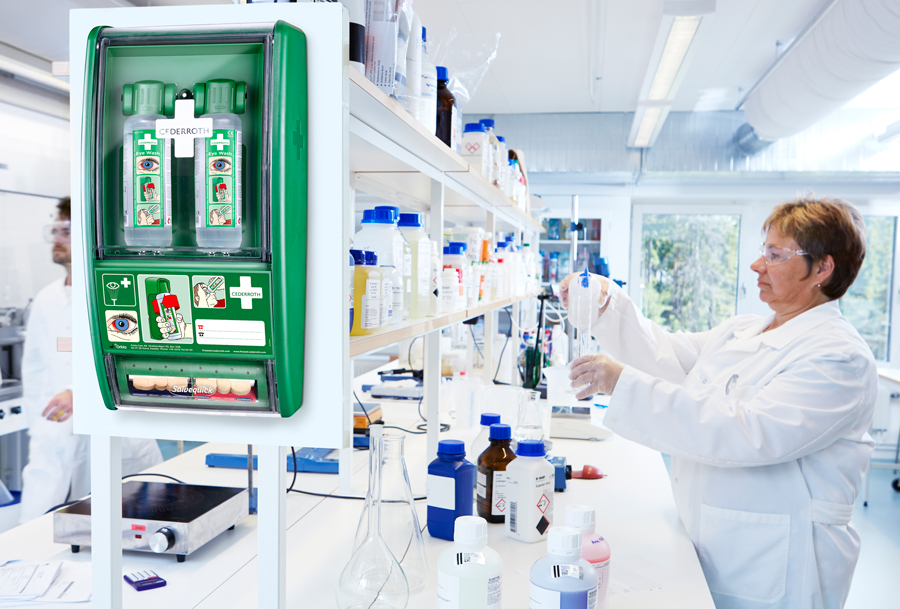 Cederroth Eye Wash Station
The Cederroth Eye Wash Station played a central role in the above situation. At first glance, the eyewash station is a plastic box attached to the wall of a workplace, which could make some representatives of an organisation ask, "why do I need an eyewash station when I have water on tap?". However, this question would be too simplified. In workplaces with a high risk of eye damage, such as construction sites, warehouses, commercial kitchens, industry, laboratories, etc., it is essential to have the right first aid equipment for the eyes. Of even more importance is quick and easy access to first aid equipment, as well as ease of use and efficiency – the main aspects that the creators of the eyewash station have paid attention to.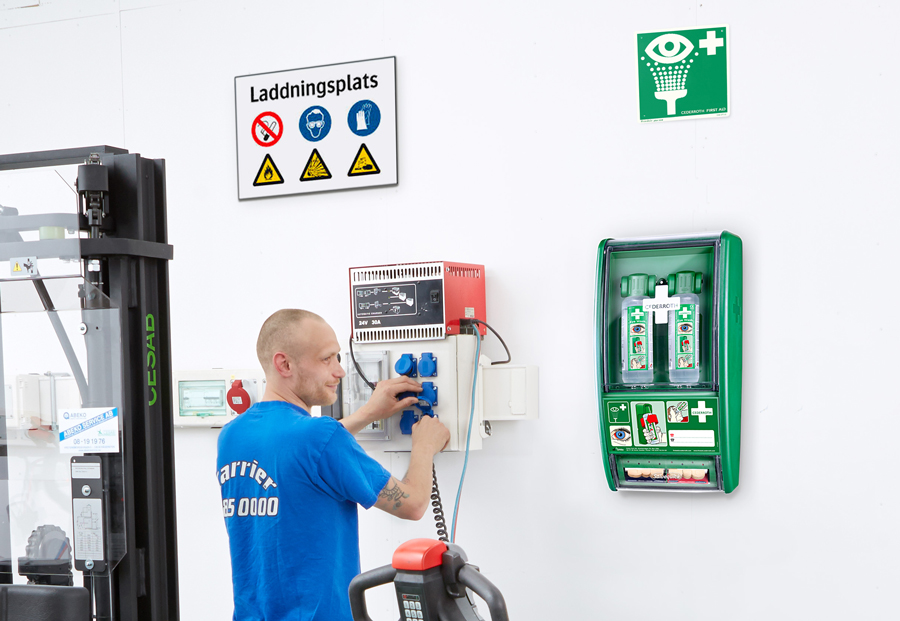 If a corrosive or other foreign substance comes into contact with the eyes, time is of the essence – every second counts. Therefore, the bottle of Cederroth Eye Wash opens as soon
as it is twisted out of the bracket. For optimal flow, the bottle is equipped with an eyecup, which further simplifies the process: the cup ensures optimal fluid flow, helps to keep the eyelids open and flushes out the foreign body or substance from the eye. Cederroth buffered eyewash solution has a neutralising effect on all alkali or acid splashes. Simple principles but crucial in a sight-threatening emergency.
See all products HERE