If you want to irrigate your garden independently of a water pipe or supply your house with service water from a cistern, you can use a pump to make use of existing water resources. But there is a wide range of pumps to choose from. Which pump is the right one?
The Scheppach company from Ichenhausen (Germany) has expanded its range of garden products. Its portfolio now includes various pumps for irrigation and drainage as well as for domestic water supply. The list below basically shows you the main differences between the different types of pumps.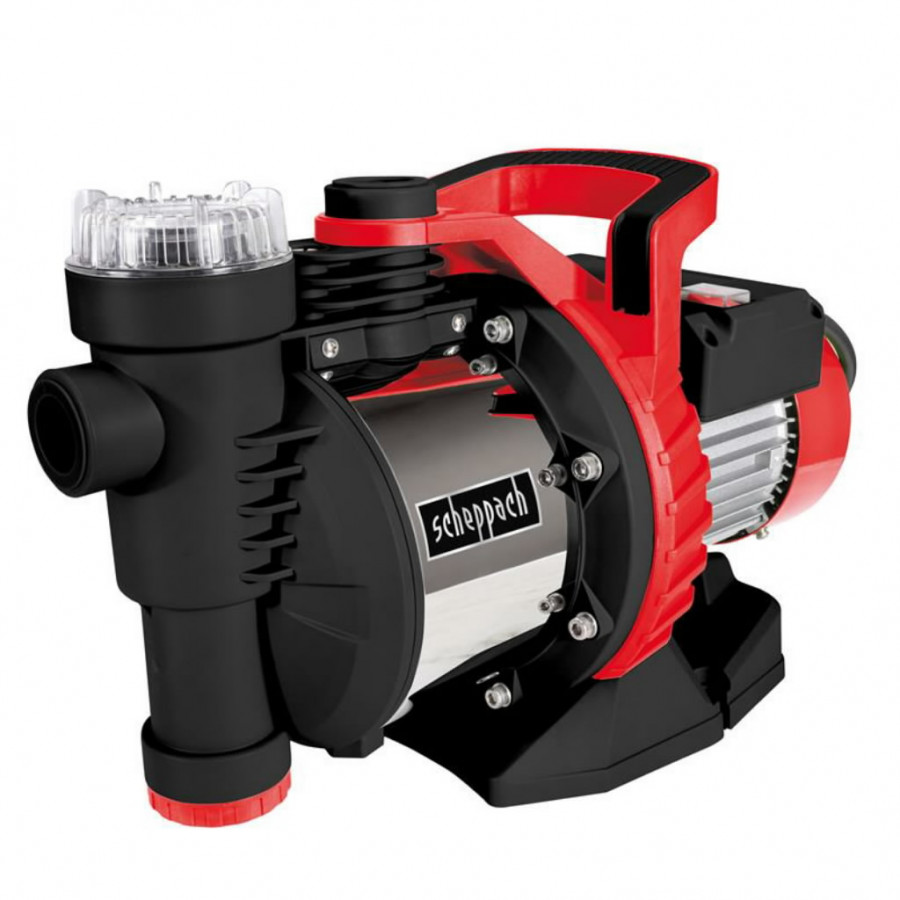 Suction pump / Garden pump
A classic model is the suction pump, which is often called a garden pump due to its frequent usage in gardens. This pump is always located outside the water that is pumped via a suction hose, e. g. from a cistern. The suction height of a pump indicates the depth at which the water level may lie below the suction pump.
The scheppach
GP1300JET
garden pump is a powerful garden helper for hobby gardeners who like to use rainwater to irrigate their gardens. The 1300 watt motor flows 5400 litres per hour at a maximum delivery pressure of 5 bar, whereby the water can be pumped from a depth of up to 8 meters. A jet pump ensures sufficient ventilation before and after each pumping process, so that there are no problems with too much air in the body when pumping.

Submersible pressure pump
Unlike suction pumps, submersible pressure pumps are placed directly in the water. This can be in shallow waters or in deep wells. They are used to pump, irrigate and drain with clean water without dirt particles. Submersible pumps should be equipped with a float to protect them from damage by running dry.
The scheppach submersible pump SBP250 is ideal for pumping out and transferring clear water with a flow rate of 5500 litres per hour from a maximum depth of 7 metres. A float switch ensures that the pump switches on and off automatically depending on the water level. The mains cable has a good length of 10 metres so that the connector can be plugged outside the wet area.

Submersible dirty water pump
Submersible dirty water pumps are mainly useful after a pipe breakage, for draining ponds or for pumping water with dirt particles such as sand and gravel.
For example, this can be done with the scheppach combination submersible dirty water pump SWP750. The 750 watt motor pumps up to 20000 litres of water to a maximum height of 8.5 metres within one hour. Due to the replaceable pump base, it can be used for dirty water with solid components up to 30 mm as well as for clear water with a residual water level of only 1 mm. The adjustable float prevents the pump from running dry to protect it from damage.

Rain barrel pump
A rain barrel pump, such as the scheppach BAP350, is a special type of submersible pump. Simply mount it on the edge, switch it on and the water is immediately pumped up from the bottom of the rain barrel. The compact 350 watt motor pumps up to 4000 litres per hour, even up to 11 metres high. A garden hose is connected to the pump via the ¾ inch connection without having to lift it out of the water beforehand.

Domestic waterworks
Save drinking water and instead pump water from a cistern or a well to irrigate the garden or to supply the house with water for the washing machine and toilet – this is what a domestic waterworks is used for. Domestic waterworks have pressure switches so that the pump is activated as soon as the water level in the tank drops below a certain level.
The HWW1300 domestic waterworks from scheppach, for example, is a cost-reducing solution for saving water. This makes it easy to supply your house, garden and yard with well water or rainwater. The powerful 1300 watt motor delivers up to 5400 liters per hour with a delivery pressure of up to 3 bar at a maximum height of 50 metres. The large 24 litre tank ensures that the pump does not start every time water is used.

Automatic domestic water pump
An automatic domestic water pump also activates itself as soon as water is needed. If water is used, e. g. via a garden irrigation system, the pump starts immediately because unlike a domestic waterworks, the automatic domestic water pump has no water tank. On the other hand, its design makes it less sensitive to dirt and other particles than a domestic waterworks.
With 1000 watts, the scheppach automatic domestic water pump GP1000Jet LCD pumps up to 4400 litres of service water per hour up to 8 metres deep from a well or cistern for use in the garden or house. Thanks to the automatic system with LCD, the system consisting of a jet pump, which ensures sufficient ventilation, a pressure tank and a pressure control always works highly efficient and delivers constant pressure.