WHEN THE TOUGH GET GOING
The XT range is the new line of welding machines by Telwin with "eXTreme" character. Powerful and strong, they are made for welders who don't hold back in the most demanding work and most hostile environments.
If you are looking for excellent performance, XT is the perfect choice when things get serious, with a job that challenges your ability. It is specifically for all of you who have always dreamed of going beyond the usual results: you no longer have any excuses, enter a truly powerful world.
TECHNOLOGY XT: A POWERFUL WORLD
Technology XT by Telwin was designed to deal with any type of scenario and make everyday operations easier. Technology XT is a line of robust, solid, reliable, functional, and above all, safe welding machines. The MPGE (Multi Protection for MotorGenerator) models have a multiple protection system that controls wavelength, the presence of filters against peaks inbound and oscillation stabilisation. A further guarantee by Telwin to ensure performance of the product when used with a motor generator. The CE model welds cellulose and aluminium electrodes.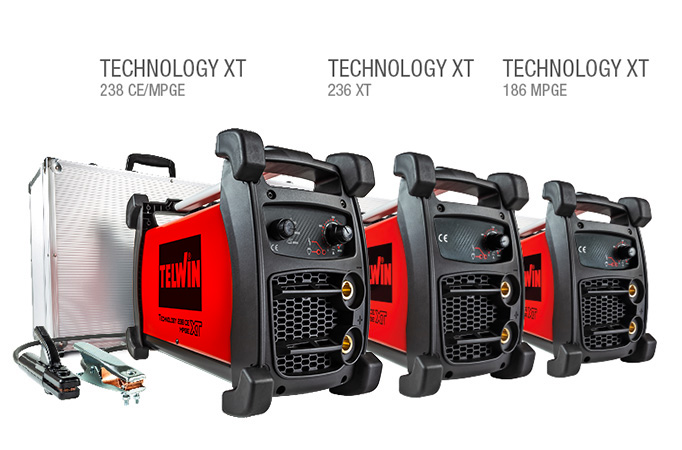 LATEST GENERATION OF WELDING - Advance XT
Advance XT is the latest welding technology that takes you to a level you would have only imagined. Its development and design allow you to overcome any welding challenge, in any operating condition. Here are a few of the strengths developed in an even more extreme nature, pushing its performance to the max: prepare to weld under the sign of excellence.
LCD DISPLAY backlit to guarantee visibility even in poor lighting;
CABLE UP TO 250m to work even far from power sources, limit-free;
MULTIVOLTAGE or rather, flexible use with any voltage variable within a broad range (i.e. 100/120V, 180V, 200V, 220/240V);
VRD to improve safety during welding operations in humid environments (mines, shipyards, etc.);
TIG-LIFT for quality TIG welding.


Source: https://www.telwin.com/en/xt/