Warm underwear, thermal underwear, underwear, work underwear… There are a lot of names. During physical work, sporting or when you merely want to protect yourself from cool weather, the best and most comfortable choice is thermal underwear. Thanks to thermal underwear you don't have to "bundle up" uncomfortably. By using thermal pants or thermal shirt, unlimited movement is guaranteed!
What is thermal underwear?
Thermal underwear or base layer is intended to catch the thin layer of air between the skin and material that is warmed up by the body heat. Additionally, an important feature of high-quality thermal underwear is absorbing and wicking moisture to keep the body dry. Sweaty body cools down 20 times faster and there is a high risk of getting cold. Thermal underwear helps to avoid that. Please note that cotton shirt will become wet during intensive sweating, does not wick moisture and dries slowly, your body is constantly wet and again, there is a big risk of getting cold. Various materials are used to produce thermal underwear, the most common are polyester, polypropylene, and Merino wool and their blends. Thermal underwear made of 100% polyester is very popular and available with a good price, it is also very durable, usually thinner and suitable for wearing all year round. Polypropylene wicks moisture well and combined with Merino wool, they make a great material. Merino wool enhances thermal properties, is antibacterial and does not "itch" next to skin. As a rule, Merino wool is added to another material and its content should be from 20% to 80%. For example, Helly Hansen's HH Lifa Merino thermal underwear contains 57% of Merino sheep wool. An important factor for choosing thermal underwear is the activity of work. For low activity and during cold season, you should use thermal underwear that is the thickest and has best thermal properties (for example HH Lifa Merino). On the other hand, for active movement or during warmer season you need a thinner version. It is important not to overheat while working. You have to be smart and also regulate your body temperature with other layers of clothing.
Should thermal underwear be tightly close to body?
Some years ago it was a common rule that thermal underwear should be tightly close to body, but actually it doesn't have to. It is important for thermal underwear to be comfortable when wearing and have a suitable fit.
When selecting the size, use your regular clothing size. This way, your warm underwear will fit perfectly. Thermal underwear is available as a set, but it is also possible to only buy a shirt or pants. Buying them individually gives you more flexibility; if needed, you can buy a bigger shirt and smaller pants or only buy a shirt.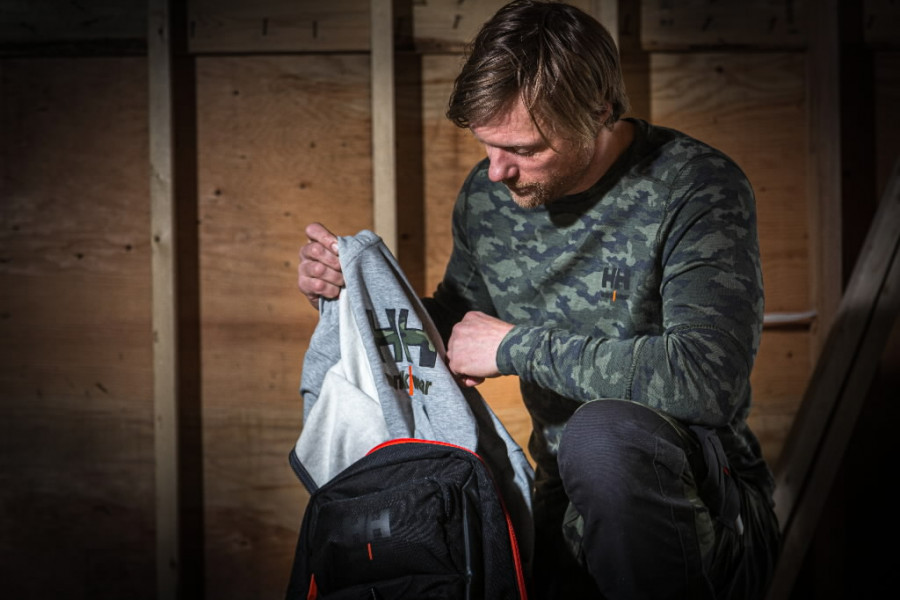 Layered clothing – warm base layer (thermal underwear), insulating layer and protective layer
Maybe you have heard about the importance of layered clothing? To understand which layer and in which order to use, you should be familiar with the function of every layer:
1. Base layer (underwear layer)
The purpose of this layer is to draw sweat away from the surface of your body. For example, HH LIFAMerinoon original Helly Hansen base layer. It is made of patented LIFA® fibre, which is 20% lighter, but warmer than most of the products made with competitors' technology. Many professionals have approved this as good for providing warmth and insulation during cold weather.
2. Mid layer (warming or insulating layer).
This layer maintains body heat and improves the performance of the base layer. Best for this are fleece jackets, sweaters, hoodies, but also work jackets and spring-fall jackets. What is also very important is the breathability of the selected garment.
3. Protective layer.
The outermost layer protects you from weather conditions, for example wind, rain, snow, low temperatures. Classically, this means waterproof, breathing and windproof winter jacket or shell jacket.
Please note that you don't always have to use all three layers. Depending on the season, temperature and the activity of work, the best results are achieved with combining the layers of clothes. The most important one is still base layer, especially with cold weather. In warmer conditions, long warm underwear can be replaced with short-sleeved thermal shirt.
What are the advantages of Merino wool thermal underwear?
One of the most popular and often requested product is definitely warm underwear made of Merino wool. What makes it so valuable?
The benefits of Merino wool underwear are its good absorbing and insulating properties. It is best to use thermal underwear made from this material during low or moderate activity in moderate or very cold temperatures. It is also to worth note its antibacterial properties.
Which layer is the most important one?
Proper clothing starts from a good base layer. The outer layer can be great, but if the wearer uses wrong base layer, it has no advantages. The purpose of a high-quality base layer is to draw sweat away from your body surface, to keep the body dry and warm, so you would feel good during the whole workday. Find our thermal underwear collection here! If necessary, ask our experienced customer service representatives for assistance!
100% tested comfort

The label "100% TESTED COMFORT" has been assigned to work clothing and footwear whose quality and wearing comfort is highly valued by our customers. High-quality and comfortable products have been made with best materials and technologies. These products last a long time and it is safe to work wearing them. "100% TESTED COMFORT" – You deserve the best!

Lifa®

Lifa® fibre fabric has excellent moisture wicking properties. It is important that sweat is not moved to the next layers of clothes, so our skin stays dry and we will not get cold.