Innovative system for cleaning TIG and MIG welded parts on stainless steel. With the specific Marking kit, Cleantech 200 becomes a marking tool on stainless steel.
Thanks to the instantaneous electrochemical reaction, Cleantech 200 restores shine to stainless steel by quickly eliminating the effects of coloration and oxidation formed during the welding process. Two cleaning tools to use with two specific liquids: these are the sets available with Cleantech 200 to guarantee immediate results already on the first pass.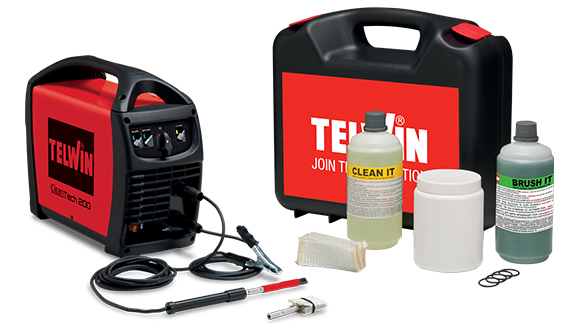 ENSURED EFFICIENCY
The efficiency of Cleantech 200 action is given by the combination of specific cleaning liquids and dedicated cleaning accessories.
| | |
| --- | --- |
| | BRUSH IT + BRUSH = delicate cleaning |
| | CLEAN IT + T-CLEAN TOOL = for more decisive cleaning |
| | BRUSH IT and CLEAN IT liquids are available in 1l or 5l formats. In order to ensure an excellent and long-lasting shine on the welded part by preventing the formation of halos and whitish stains on the cleaned metal, at the end of the cleaning process, it is recommended to use the neutralizing liquid NEUTRALIZE- IT. |
| | FLEXIBILITY OF USE With the tailored Marking kit, Cleantech 200 becomes a powerful tool for marking on stainless steel |
| | SIMPLE AND INTUITIVE By selecting the tool to use from the control panel, Cleantech 200 sets the cleaning parameters automatically. |
| | COMPACT AND LIGHT Compact and light, it is easily transported where necessary. |
| | EASY TO MOVE AROUND With the America trolley, Cleantech 200 transforms into a mobile cleaning station, always available and accessorized for all your needs. |
Cleantech 200 230V + KIT (850020) features:
Smart Auto Power technology: enables the rapid distribution of power on the surface to clean, for immediate and guaranteed results;
compact and light, it is easily transported where necessary;
1 standard cleaning kit (2 accessories and 2 liquids) to meet all cleaning needs on stainless steel;
prepared for marking on steel with a tailored kit (T-mark accessory and blue Mark-it liquid);
reduced energy consumption.
| | |
| --- | --- |
| CODE | 850020 |
| DIMENSIONS | 43 x 17,5 x 34 cm |
| VOLTAGE | 230 V |
| FREQUENCY | 50 / 60 Hz |
| ADJUSTMENT POSITIONS | 2 |
| WEIGHT | 15,5kg |
| EAN CODE | 8004897974828 |
Find out more: https://www.stokker.com/cleantech-200-cleaning-set-for-tig-mig-stainless-steel-telwin/-13937276
Source: https://www.telwin.com/en/news-ed-eventi/news/CLEANTECH-200-00004/