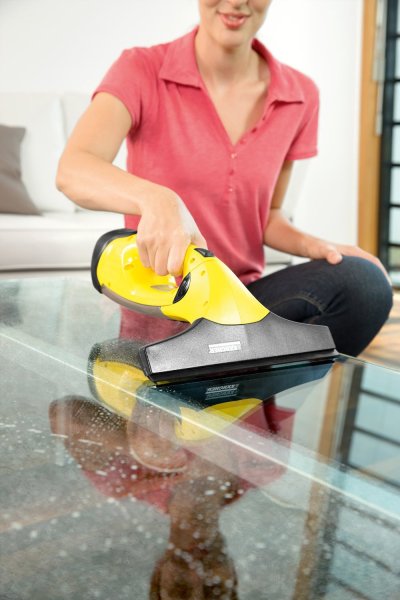 Kärcher improved the window cleaner model and made it even more comfortable. New model is smaller, cheaper and working harder!
Kärcher's innovative window cleaner is a revolution in window cleaning. The Kärcher cordless window cleaner makes cleaning easier, saves time and effort.
This annoying dripping dirty water is the past because of the electrically powered suction function. Its clever combination of spray bottle and sweeper with suction function of the windscreen washer ensures extremely efficient cleaning and leaves the windows shiny clean - without streaks or other dirt. In addition, the handy and ergonomic Kärcher cordless window cleaner makes window cleaning very hygienic, as the user does not come into contact with dirty water.
Can be used on all smooth surfaces: windows, mirrors, ceramic tiles, glass tables, shower walls, etc.
Key updates:
Smaller in size (old model height 355mm, new 320mm) and lighter (old model 0.7kg, new 0.6kg). Battery life is 35min (old model 25 minutes).
More convenient opening of the black water tank.
Technical specifications:
Tank capacity: 100mlLi-ion battery operating time: 35min
Charging time: 185min
Capacity with one load: up to 105 m2 (35 windows)
Suction brush width: 280mm and 170mmWeight: 0.6kg