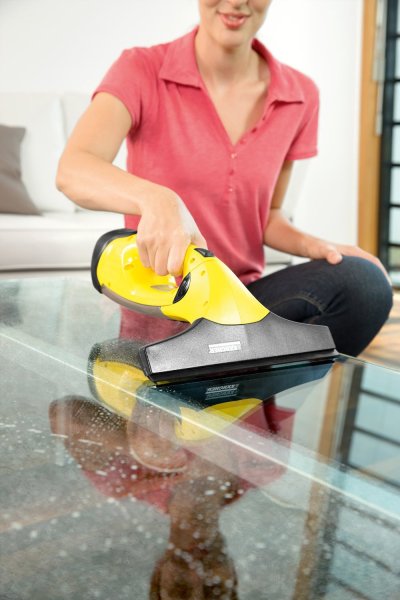 The new and advanced Kärcher WV2 Premium window Cleaner
Karcher's innovative window cleaner is revolutionary for cleaning windows. The new Karcher is battery powered which makes cleaning easier and saves time. It leaves the windows crystal clear thanks to its clever way of combining a spray bottle and a sweeping device with the cleaner's function of suction. In addition, the cleaning process is extremely hygienic due to the fact that the user does not get in contact with the dirty water.
It can be used on all smooth surfaces: windows, mirrors, ceramic tiles, glass, etc.
Main updates
Smaller in size (old model's height 355mm, new model's height 320mm) and lighter ( old model's weight 0,7kg, new model's weight 0,6kg). Battery lasts for 35min (the older model lasted for 25 minutes).
The dirty water tank is easier to open.
Technical specifications
Tank capacity: 100mlLi-ion battery lasts for 35min

Charging time: 185 min

Suction brush width: 280mm and 170mm,

Weight: 0,6kg