We have all been exposed to skin injuries, which can appear as scratches in the best of cases or even bleeding at other times. Fortunately, the correct techniques and highquality tools help you cope with an unexpected situation.
Regardless of the work environment, skin injuries are a familiar topic. Whether it's an office, a construction site, or a store, sooner or later, someone's skin will get damaged. Such cases are more likely to be attributed to negligence, but as life has shown, such minor accidents also occur in safer work environments – this is how (working) life is.

Patch on!
Most working environments, indoors or outdoors, are equipped with the most modern first aid equipment. Just as there are different types of skin injuries, there are a variety of treatments available, from simple "patching materials" to thinner, self-adhesive wound dressings. In most working environments, first aid equipment is limited to classic content, waiting to be used either in the dining area or in the desk drawer of a person responsible for the wellbeing of the office. The resulting wound is easy to patch with more than one pair of hands: one opens the firstaid kit, the second searches for the most suitable item, and the third patches the wound. But how to behave when you are alone at work?

Speed and simplicity
The more attentive among us must have noticed how swiftly first-aiders act. Whether the knowledge has been acquired through the TV screen or from personal experience, the main features in all such cases are speed and simplicity. The same principle has been taken into account in creating the Cederroth Wound Care Dispenser, and although it is not a tool for solving life-and-death issues, it is nevertheless a cutting-edge product in its field. Due to its compact size, the Cederroth Wound Care Dispenser can easily be placed close to areas with a recurring risk of minor wounds. Many workplaces can be damp, dirty, or dusty. Thanks to the protective cover, the dispenser keeps the contents hygienically clean. The dispenser includes wound patches, Salvequick plasters of various sizes and a Cederroth soft foam bandage. It means a wound can be quickly cleaned and tied up at the workplace, and the injured employee can return to work immediately. Cederroth's highly rated soft foam bandage is glue-free and self-adhesive, and stays on, even when wet. With the Cederroth Wound Care Dispenser, the bandage can be handily cut to size without scissors.
The soft foam bandage is also great for use on fingers, as it adapts well to the shape of the finger and does not interfere with work later. The Salvequick plasters in the same dispenser are also available in various sizes, which means you can put together the dispenser's contents to suit your workplace needs.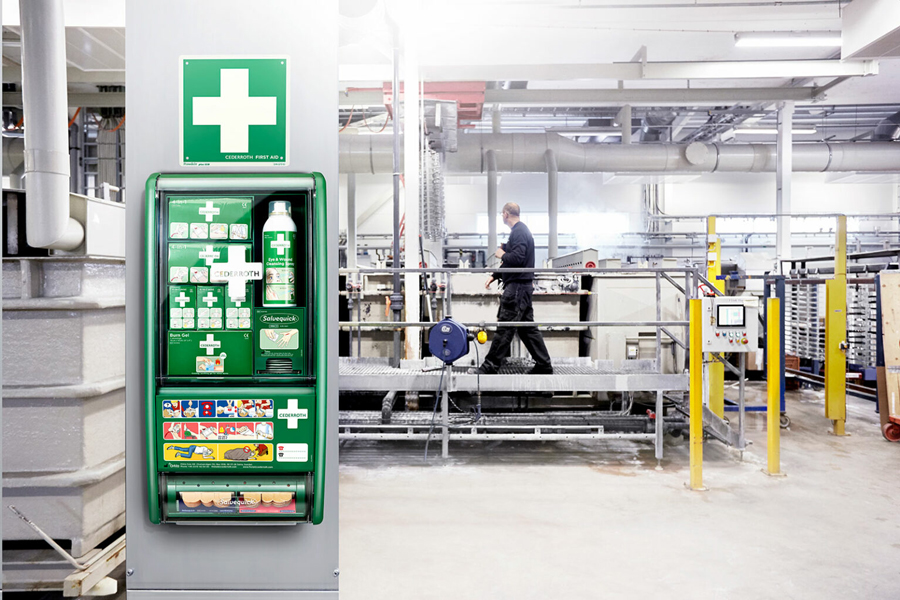 See all products HERE